Leading the market with five clinical studies
CEREBIOME® is the most documented psychobiotic with 5 clinical studies among which the first-ever human clinical study involving healthy stressed adults and probiotic intake.

Pioneering clinical studies on a healthy population
Diop 2008: The first study demonstrating the effect of a probiotic on stress-induced gastrointestinal symptoms
75 healthy volunteers (18-60 years old) with at least 2 symptoms of stress were enrolled to take CEREBIOME® or placebo for 3 weeks. The study showed a significant reduction of stress-induced gastrointestinal symptoms as assessed by 62 criteria.
Messaoudi 2010: The first study that demonstrated the positive impact of a probiotic on occasional stress in healthy humans.
This gold-standard study (randomized, placebo-controlled, and double-blind), was conducted on 55 healthy volunteers (30 – 60 years old) for the intake of CEREBIOME® or placebo.
After 30 days of intake, a significant reduction of psychological stress as assessed by HSCL-90 tests (validated questionnaire) was shown in the CEREBIOME® group. These results were correlated to the significant decrease of cortisol, a biomarker of stress. In less stressed subjects, significant improvement of PSS score, HADS scores, and anxiety/depression score in HSCL were demonstrated in a post-hoc study [Messaoudi 2011].

Pioneering clinical studies on depressed participants
Rominj 2017: Depressed participants without ongoing treatment
This was the first study conducted with CEREBIOME® on depressed participants. This gold-standard study demonstrated that CEREBIOME® significantly decreased dry mouth and sleep disruption (p<0.05) compared to the placebo group.
Kazemi 2018: Depressed participants with ongoing treatment (for at least 3 months)
This randomized, double-blind, and placebo-controlled study included 110 patients suffering from mild to moderate depression that were receiving antidepressant treatment.
The probiotic was used as an adjunct therapy to conventional antidepressant treatment and showed a significant decrease in Beck Depression Inventory (BDI) scores, from 18 down to 9 on average. These results are clinically significant, showing that the patients, after treatment with CEREBIOME®, were now categorized with "minimal depression" according to the validated assessment scale. Additionally, the CEREBIOME® group showed a decrease in the blood kynurenine/tryptophan ratio, which suggests that tryptophan was diverted toward the synthesis of serotonin and away from the inflammatory pathway (p<0.05).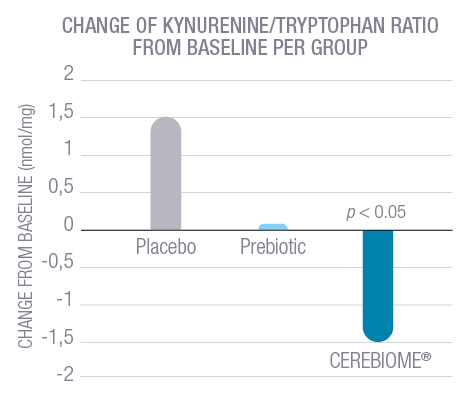 Wallace 2021: Depressive participants – treatment naïve
An open-label study by Wallace and Milev found that in treatment-naïve patients, CEREBIOME® had a positive effect on mood, anxiety, anhedonia, sleep quality and perceived stress, lasting up to eight weeks after psychobiotic intake.